I'm sure you remember the unforgettable pint sized beauty Nataly, I know I couldn't wait to see her again! We met at The Greene in Kettering and had a fantastic time playing in the snow. The elusive sunshine even made an appearance, and I was thrilled with being able to incorporate some warmth into their photographs. Winter in Ohio has been the usual cold, snowy, and overcast. I feel like that bit of sun transformed everything. I say it all the time, but I believe that sunlight looks good on everyone. It's the most natural, organic way to enhance a portrait. Take a peek & see if you agree:
I always start any session out with some poses. Once we get them out of the way, we start having fun: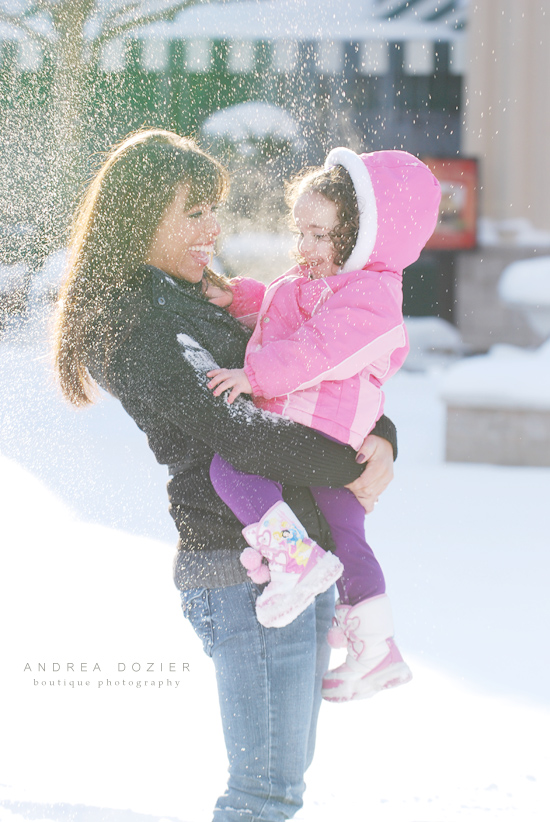 After playing, the little ones forget that I'm aiming my lens at them.

The man behind the snow. One of his amazing special-effects-snow-balls blew towards him because of the wind…

I know they made everything look fun & comfortable, but it was truly freezing outside!

I love watching toddlers check everything out. No matter their response, it's priceless.




Aimee… you're gorgeous.


Nataly's enthusiasm is awesome. Love those bouncing curls :]


So it turns that The Greene isn't just a great place to shop at the gigantic Forever 21 or grab Chipotle. It's an excellent backdrop for photographs, especially as twilight approaches and all the city lights are illuminated against a kaleidoscopic sky…